Praia da Luz
Praia da Luz is a small Portuguese village, west of Lagos, which has grown substantially in the last few years but has been able to keep its village character. Large hotel blocks and high-rises are hard to find here. Accommodations and private holiday homes are often only a few minutes on foot from the city and the beautiful bay with its fine, sandy beach and the striking black volcanic rock, Rocha Negra.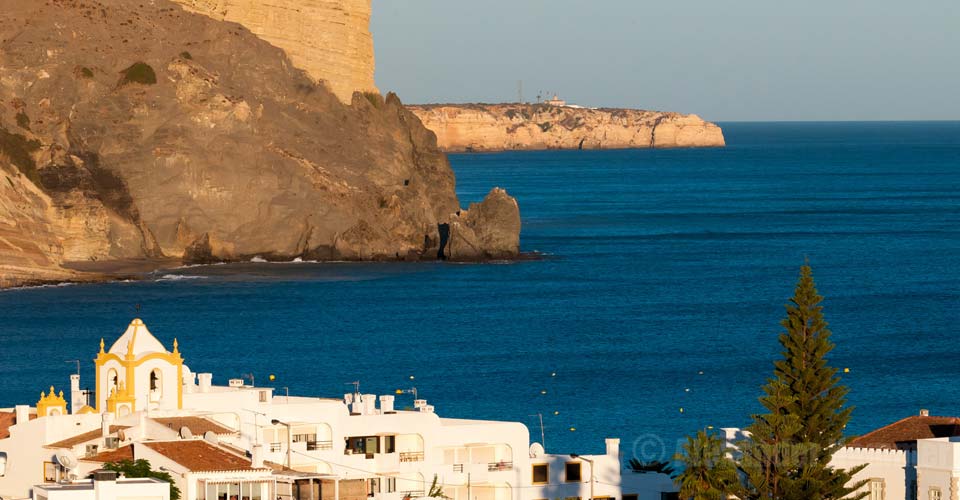 Praia da Luz with view to the striking black volcanic rock, Rocha Negra

There are many restaurants, cafes, shops and accommodations along the beach promenade lined with palm trees, which is furnished with the typical Portuguese pavement. In the summer months, many artists present their work here, and maybe you will find a souvenir or two while browsing. Furthermore, while strolling, one has a fantastic view of the "black rocks" and the beach of Praia da Luz.
At the end of the promenade, one encounters the "Fortaleza", a former fortress, which nowadays is used as a restaurant. From the terrace, you have a beautiful view of the west part of Praia da Luz and a small section of the beach, which leads to a flat sandstone section.
The old village church, which was destroyed in a huge earthquake around 1870 and rebuilt in its original state, is situated above the promenade. Regular masses are held here, some in foreign languages.
Praia da Luz has an excellent infrastructure. In the centre, only a few minutes' walk from the beach, there are several supermarkets for your daily requirements, many restaurants, cafes, a bank, the post office and a lot of shops. It is the ideal holiday resort for a family holiday, as all facilities are situated close together and can be reached without a car.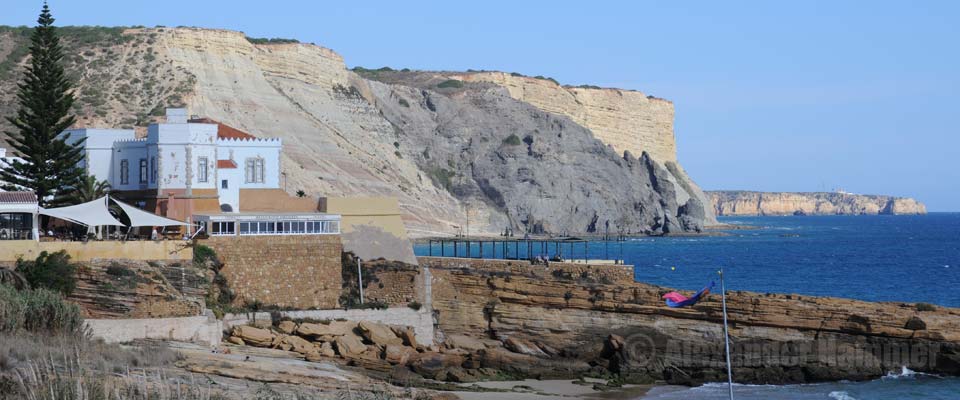 Restaurant Fortaleza
The city of Lagos can be reached by car in about 10 minutes, and there is also a regular bus service. The amazing beaches of the west coast can be reached by car in 20 minutes.
Praia da Luz, which means beach of light, is also becoming more and more popular with people who are overwintering. The cosy atmosphere, the good infrastructure and the light, which is especially bright in winter, also attracts more and more tourists in the winter. Simply a perfect resort at any time of the year!