Surf paradise Portugal
Surfing in Portugal
Portugal is a surfing paradise par excellence. With its more than 800 km long Atlantic coast and a well-established infrastructure for learning to surf, a surfer scene has established itself in the most south-westerly European country, which is gaining more and more international attention. Since surf star Garret McNamara advertised Portugal, the small country has become one of the most popular destinations in the international surfing community.
Due to the climatic conditions, surfing can be enjoyed all year round in Portugal. On the seemingly endless Portuguese coast you will find a wide selection of excellent surfing spots, some of them in breathtaking coastal landscapes or nature reserves.
It is these tremendous natural surroundings, together with the strong winds and the powerful rolling waves, that fascinate and instantly captivate people. The barren and rocky coast of the Costa da Vicentina in the southwest of Portugal between Odeceixe and Sagres is full of steep cliffs and headlands, from which one can get an incomparable view over natural beaches and dune landscapes.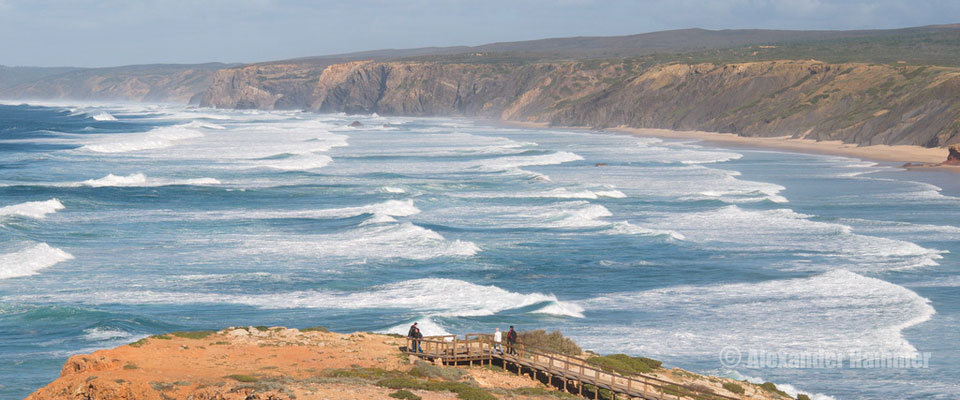 View at the bay of Carrapateira, west coast Algarve

Year-round surfing in the Algarve
Throughout the year, surfers of all ages and abilities gather along the Portuguese coast, and the Algarve is becoming increasingly popular due to its very constant surfing conditions and the pleasant climate (hot summers and mild winters).
If you choose the Western Algarve as your starting point, you have the best geographical conditions for a first-class surfing experience. Over 30 surf spots on the south and west coast can be reached within 30 minutes. It does not matter if you are a beginner, an advanced surfer or a pro, you will always find the right beach with the right wave in every season.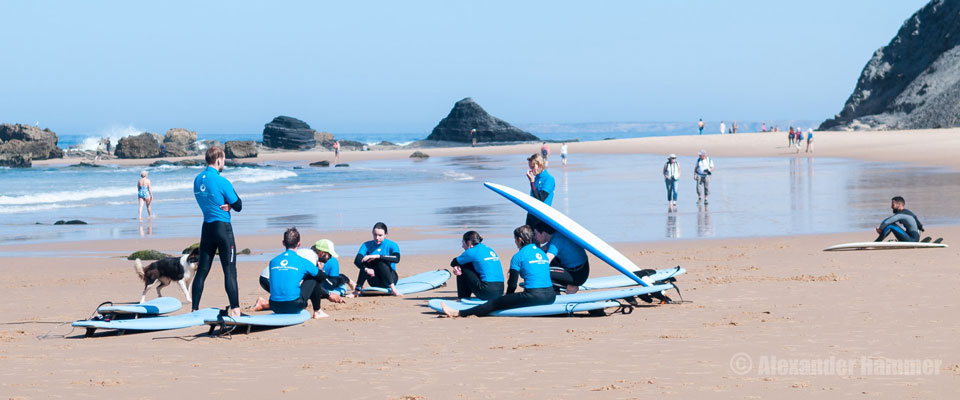 Praia do Castelejo, good surf conditions all year round

Lagos among the 20 best Surf spots in the world
A particularly attractive starting point for surfing enthusiasts is the city of Lagos in the western Algarve, which was voted one of the top 20 surf spots in the world by the prestigious National Geographic magazine. In addition to the already mentioned accessibility of the beaches on the south and west coast, Lagos has a good infrastructure for surfing services. Surf schools and surf shops are open year-round, offering everything from lessons for beginners to renting or buying of equipment.
And if you still have the energy after an exciting day's surfing, the vibrant surfing scene in and around Lagos will definitely provide you with options for fun and partying.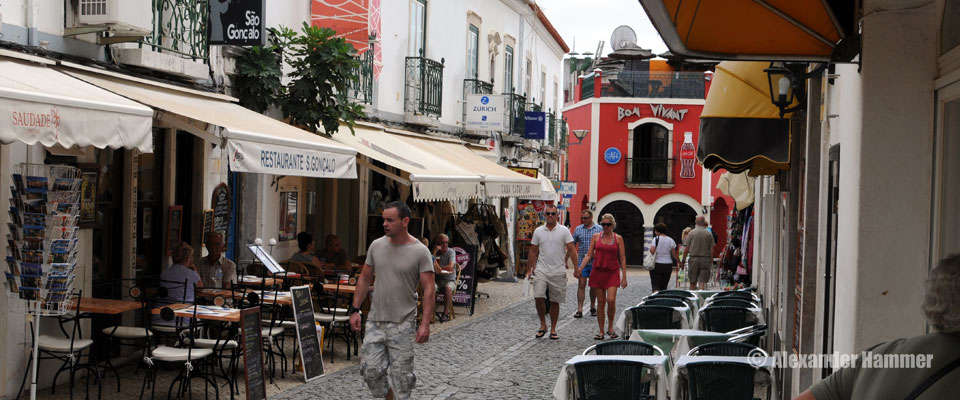 Historical centre of Lagos, Portugal
The best surf spots on the south-west coast of the Algarve
Depending on the coast, different surfing conditions prevail in the Algarve. On the west coast, the waves are big and strong, while the waves on the south coast are shallower and longer.
Below is a list of the most interesting beaches in the western Algarve:
Praia da Amoreira, Aljezur
The beach is located on a river mouth and provides a fantastic dune landscape.
Praia da Arrifana, Arrifana
Below the fishing village of Arrifana, protected by impressive steep cliffs.
Praia do Amado, Carrapateira
Easily accessible long sandy beach, ideal for surfing beginners.
Praia do Castelejo andPraia da Cordoama, Vila do Bispo
Two adjacent endless beaches that are connected at low tide.
Praia da Ponta Ruiva, Vila do Bispo
Somewhat hidden beach west of Vila do Bispo with a consistently good surf.
Zavial, Raposeira
Beach at Raposeira, not available for surfing all year round. The best surfing season for Zavial is the winter.
Praia do Burgau
This beach is located near the small fishing village of Burgau and is very popular with surf beginners. Nice infrastructure with bars, cafes and restaurants.
Praia da Luz
The Luz beach is located in the village of Luz. The conditions are not always constant, so the best season for Luz is winter.
Accommodation for surfers
In the Algarve as well as on the west coast, a good surfing infrastructure has been established, which offers not only surf lessons but also complete packages including accommodation and meals. Accommodation is on offer in a shared or double room in combination with surf lessons, other sports activities and nightlife tours.
If you want more privacy, don't want to spend your holiday in a party whirlwind or are travelling as a family, it is better to rent a centrally located well-equipped holiday apartment or an entire villa with pool to relax after a strenuous surf trip. At Nonplusultra, you will find the Holiday accommodation Algarve, from an Apartment in Carrapateira for rent to a holiday home near the beach. Including personal attention and advice!